Commercial Pressure Washing
Commercial Pressure Washing
---
For our commercial clients, exterior maintenance isn't just an expectation: It's a necessity. We bring the best first impression of your property… And we make it last.
We can help!
Click here to edit Spacer module.
Professional Pressure Washing For Your Commercial Property
---
We clean & maintain the exteriors of commercial buildings, store fronts, apartment complexes and more!
In the eyes of South County Soft Wash, your property is #1. We treat it like the top priority that it is with: • Easy Scheduling that doesn't disrupt your workflow
• Repeat Service so you maintain quality all year long
• Top-Caliber Equipment that delivers the best results
• Honest Solutions from technicians who really care
SOLUTIONS FOR EVERY PROPERTY
Our team is proud to partner with properties of all sizes and across every industry. Some of the clients we most commonly serve are:
HOAs
Condos

55+ communities

Office parks​
Apartment complexes
Schools

Property management companies

Town municipalities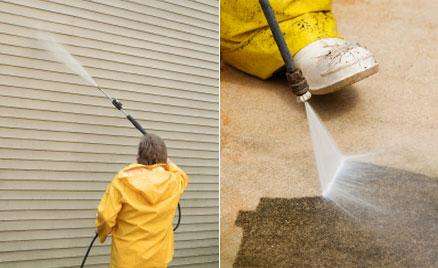 ONE STOP PRESSURE WASHING SERVICE IN RHODE ISLAND
Managing a commercial property is enough of a hassle – getting the maintenance care you need shouldn't be an added complication. This is where South County Soft Wash can help. We deliver a complete range of exterior cleaning solutions, including:
EXTERIOR CLEANING
The first impression of your property matters – but we want to make that first impression last. Our team uses a dynamic cleaning approach to clean your exterior. With the capability to clean with pressure washing and soft washing, we deliver consistent quality through a safe and effective solution. Whether you're dealing with mold buildup or a moss issue, our team has a solution. Learn more about Pressure Washing
With our technicians on the job, eyesores disappear and curb appeal can take the front seat that it deserves. Our exterior cleaning services include:
Storefront Cleaning
Building washing
Graffiti removal
Your first impression starts from the top, so it's important to give your roof the attention it deserves. Our soft washing solution is a safe way to remove dirt, moss, mold, and other buildups on your exterior – and keep every single shingle safe in the process.
When you invest in regular roof cleaning, you're also investing in the long-term quality of your roof. A regular soft washing service from South County Soft Wash can extend the lifetime of your roofing by a decade or even longer.
WINDOW CLEANING
Keep employees and clients happy on the inside and dress your property to impress on the inside – and do it with window cleaning! We deliver interior and exterior window cleaning to promote a welcoming, beautiful, and light-filled space for your property.
RUST REMOVAL
If rust is bringing your curb appeal down, it's time to call in the heavy-duty solution. We use F9, an innovative rust removal solution that is guaranteed-effective and safe for the environment. Our rust removal solution is a great resource for:
Concrete
Brick
Pavers
Vinyl
Asphalt
Painted surfaces
CONCRETE CLEANING
We believe that every inch of your property matters – and it's important that the ground level get the attention it deserves. Our team provides a pressure washing solution that will transform virtually any surface into a beacon of curb appeal. This deep-clean approach is the antidote to all of your property's surfaces. We've seen it all, and our equipment and expertise are a match for every eyesore. Concrete cleaning solutions include:
Driveway cleaning
Sidewalk cleaning
Parking lot cleaning
Drive-thru cleaning
Dumpster pad cleaning, and chewing gum removal
CHEWING GUM REMOVAL
You won't ever find a property who finds that chewing gum adds value to their curb appeal. Unfortunately, it's an all-too-common issue. We reverse the damage with our deep-penetrating cleaning approach, which erases the sticky issue from all of your surfaces.
With commercial cleaning service from South County Soft Wash, you are getting the expertise of a team devoted to the success of your business. From there, the sky really is the limit! Call Us Today for Your FREE Estimate: 401-749-9274 REQUEST QUOTE ONLINE