Rust

&

Calcium

Stains Removal
---
Rust stains and calcium deposits (efflorescence) are notorious for being extremely hard to remove. When these stains develop on your property, you want them gone, but how? Click here to read about South County Soft Wash
No need to worry, we are an Authorized Applicator for F9 Restoration, the leader in rust and calcium removal products.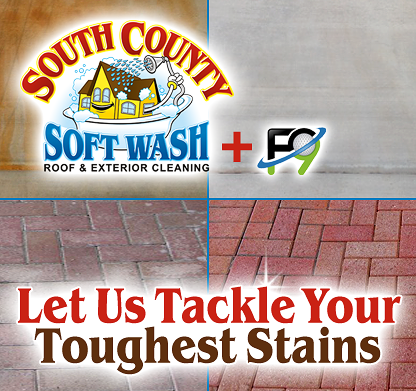 Rust Stain

&

Calcium Deposit

Removal for Your Rhode Island Property
---
We use F9 BARC and F9 EFFLO to tackle those tough rust and calcium stains the right way!
Rust Stain
Removal
Rust stains are infamous to look absolutely awful, and being very hard to remove. That's where we come in! We can rid your property of rust stains using a specialized rust remover called F9 BARC.
Works wonders on the toughest-to-get-rid-of stains:
Rust Stains • Battery Acid Stains • Fertilizer Stains • Irrigation Stains
Ideal for rust stain removal from many surfaces:
Concrete • Stucco & Brick • Rubber • Vinyl Siding • Roof Shingles & more!
Calcium Deposit
Removal
Calcium deposits (efflorescence) on brick, stone, and concrete surfaces are a problem in the Rhode Island area. This residue, left behind when hard water evaporates, can be removed with F9 EFFLO!​
Specially developed to reverse and eliminate:
Efflorescence • Mineral Stains • Mud/Red Clay • Copper Stains & more!
Removes unsightly, slippery deposits from:
Concrete • Pavers • Stone • Tile • Concrete Coatings • Asphalt & more!